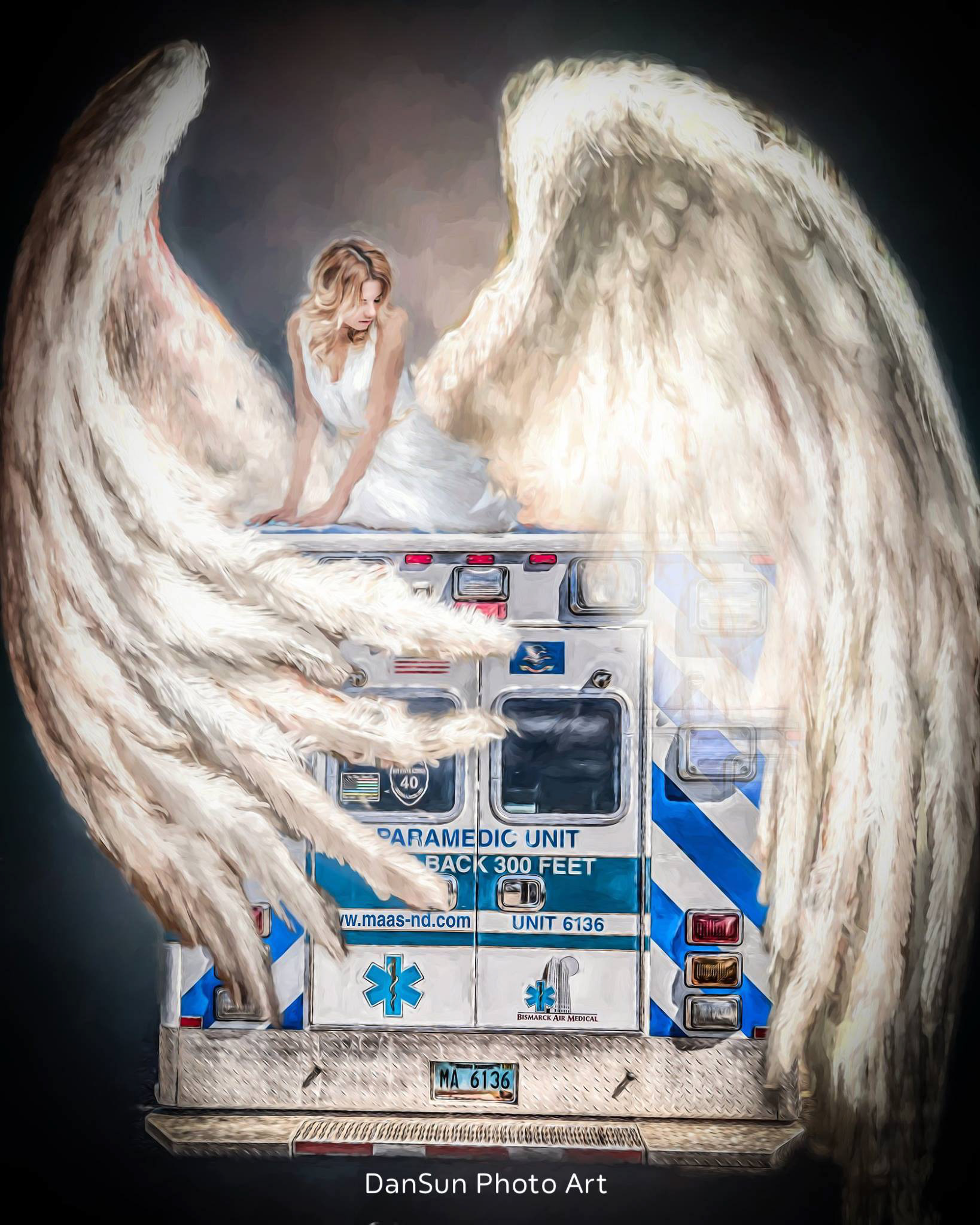 The health & wellbeing of medical and all other health professionals are in crisis. The symptoms are burnout, bullying & discrimination, compassion fatigue, existential distress, mental health issues and suicide. When our doctors and health professionals are unwell, society is unwell. If we want to have consistently satisfying & effective interactions with the system, it's our collective responsibility to support necessary change to create the healthcare system we all want to experience.

SafeSpaceHealth™ was created for this purpose. An App was born as the means to channel our energy to help a worldwide community of health professionals across all disciplines and specialties.
What is SafeSpaceHealth App
SafeSpaceHealth App is an anonymous & unfiltered digital support space and community for physicians, nurses, paramedics, psychologists, medical students and all other conventional health professionals. It exists for them to debrief about their difficulties, distress, triumphs and existential questions. They will receive support to enhance leadership, communication, self-care, positive habit change, conflict resolution and so many other skills that promote practice effectiveness, harmonious relationships with colleagues/patients, healing/placebo effect & patient safety.

Who maintains the Safe Space
Our Wellness Facilitators trained up as Moderators of course!

Becoming a Moderator to support a worldwide community of health professionals is how we can do our bit to help our helpers, heal our healers, and help each other create the healthcare experience we want, globally.

We are providing training, ongoing peer support and supervision for physicians, medical students, residents, specialists, nurses, social workers, genetic counsellors, psychologists, youth workers, early child intervention, police officers, vets, pharmacists, group facilitators, IT specialists, other non-health professionals and more from all over the world to become Wellness Facilitators. The training and ongoing support primarily focuses on embodying the qualities and skills of a Wellness Facilitator and how to apply them to moderate SafeSpaceHealth forum.
We envision a global support system that can remove the barriers to self-discovery, can enhance empathy and self-awareness, heal emotional upset, stimulate hope, facilitate personal development and guide deliberate actions aligned with values and goals across disciplines.

What does SafeSpaceHealth Moderator Do
It's useful to know up front what the role of the Moderator isn't. 
• doing healing work, counselling or therapy on users
• offering advice
• disclosing your personal information, expertise, experiences, spiritual & existential beliefs
• attracting or referring clientele for your own or external 1:1 or group work
• deep diving to heal the source of a problem
• being an expert.
Moderators are using a variety of skills & tools to help users scratch the surface of their problems & perceptions of their problems to discover what's beneath the surface of their conscious mind (aka their unconscious mind) to help them plan to make positive change in their lives. It will require self-restraint, group facilitation & coaching skills to facilitate self-awareness rather than share guidance, intuition or well-intended advice.

The space is entirely about partnership-centred support through:
• validating and acknowledging
• exploring and inquiring
• gently challenging and reframing
• enhancing empathy and compassion
• coaching and problem management
These skills increase self-awareness and facilitate insights from users that are used to develop practical evidence-based actions & share supporting resources within an open group chat environment that looks like Twitter.

Moderators will also use their devotion to serving others and presence to connect to inner peace & unconditional love, and transmit positive energy throughout their moderation session. Through the loving, yet virtual, presence of the Moderators holding the highest vision for these beautiful souls (health professionals) who have devoted their lives to alleviate suffering, our subtle approach can beneficially shift consciousness within the healthcare community.

The only time there will be 1:1 interaction is if a user is in distress and needs specific intervention for suicide prevention & safety plan activation.

Qualities and qualifications we are looking for in Moderators?
• You feel 'called' when you read this document
• You love the idea of innovation, social impact and healthcare transformation
• You're soulful, intuitive, sensitive and solution-focused
• You're inclusive and respect that the world is made up of diverse opinions, philosophies, beliefs, culture, behaviours, practices and approaches that enrich life.
• You have an established & consistent self-care routine that includes daily meditation
• You're self aware and reflective and want to experience that more
• You work within or are connected to healthcare
• You have a growth mindset and have mental and emotional agility
• You're acknowledge that you have biases that influence the way you assess & help people and you're prepared to broaden your perspectives
• You have humility because you're honest about your own strengths, imperfections and areas in need of development and,
• You're learnable/teachable because no one knows everything and we're here to learn and apply our learning to evolve ourselves and our effectiveness as helpers
• You have space in your schedule or feel so called to be part of this that you will find a way to make it happen without risking burnout.
Notice the absence of academic qualifications. We want humans first.
Does this sound like the kind of work you'd like to be involved in
Great - we need you!
In addition to the qualities we seek in our Moderators, we also ask that you're:
• willing to learn and commit to practice of culturally respectful spiritual & mindfulness techniques that increase access to inner peace & unconditional love that also preserve empathy, prevent compassion fatigue and burnout.
• an excellent communicator/conversationalist who is curious about how others outside your own philosophy & worldview think & feel, can be present when reading traumatic & triggering content disclosed in forums, and are grounded and practical in your approach to life & relationships.
• you're skilled in typing, excellent in English grammar and spelling & feel confident in your use & learning of technology. You also have access to their own desktop/laptop computer, stable internet connection and a quiet space to moderate.
• caring about the wellbeing of physicians, nurses & allied health professionals and want to be part of the solution.
• interested in learning about the specific issues in healthcare harming health professional wellbeing, fulfilment and interfering with their effectiveness in helping patients and colleagues.
• enthusiastic about learning how to support habit and behaviour change, self care & communication skill enhancement through implementation of actions, strategies and coaching approach and are committed to applying these approaches to your own lives for self-care, evolution & self-realisation.
• willing to question your own beliefs, biases, judgements and communication styles, recognise when they're unhelpful to moderation/support and committed to ongoing learning & actions to enhance empathy & its preservation, compassion, discipline, non-rescuing, relating skills, humility & self-worth.
• able to do ASIST (suicide intervention & prevention) training in your own location.
• able to work 2hr shifts with co-moderators for 8hrs/week (no overnight shifts past 9pm are permitted). Moderators can work more than 8hrs if you want.
Concerned your background and/or training doesn't match perfectly? That's OK! We provide training to ensure our moderators are able to provide the support our valued health professionals require, and to ensure you yourself can offer this service without burnout.

What's the time commitment for Moderator training
• Training occurs online using Zoom platform over an 8 week period.
• Classes are held on Monday AND Wednesdays, Australian DST (Sundays & Tuesdays for North America & Europe.
• Each class is 2 hrs.
• There are 3 sessions offered on class days to accommodate the different time zones. Come to the session time that works best for you on that day.
• We explore a different topic/ skill each day. There is follow up short reading, skill practice and observation tasks to complete before the next class. Your participation in each class is necessary to optimise the learning experience.
Moderators in North America and Europe NOTE
: afternoon and evening classes are held on your Sunday and Tuesday. See the time options below in
orange
.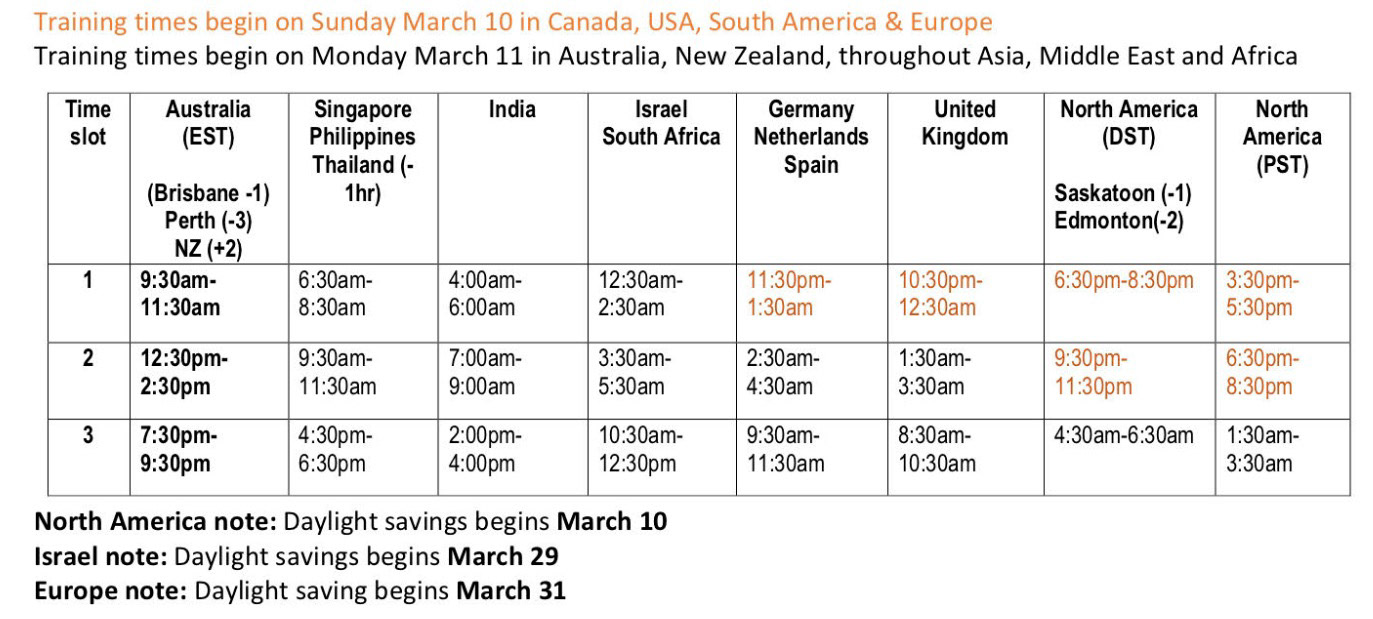 • There is also 1 hr/week coaching practice with your coaching circle to consolidate your skills.
• 1 hr supervision/month with Nathalie or another supervisor
• ongoing learning in Q&A sessions, debriefing sessions and software training (ie updates)
• 8 hrs/week moderation once the App is launched
You will learn, experience, practice & reflect on all the skills you need to become a Wellness Facilitator to effectively moderate the forum. You will receive (free!) ongoing support in developing your Wellness Facilitation qualities and skills and how to apply it in all types of helping relationships. Repetition is key to our effectiveness and consistency as Moderators.
It is intended that all moderators will get paid an hourly rate for moderation once SafeSpaceHealth App launches.
Next Training Begins March 11, 2019
If this opportunity calls to you and you feel a yearning to heal our healers through this subtle & empowering approach, please contact me,
Nathalie Martinek
, on FB messenger, phone or WhatsApp (+61431663373) or via contact form below.